iPod Integration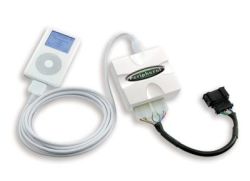 Older style options to play your iPod through your car radio left you with terrible static, limited control options, and other major drawbacks. But with Autohaus Automotive as your car electronics shop, you can forget about the old ways to play an iPod in the car. Today's Android, iPhone, and iPod integration systems provide innovative technology for superior connectivity and outstanding sound! Serving Hayward and beyond, we are your choice when you're looking to integrate your smartphone with your car stereo.
Autohaus Automotive is pleased to offer the latest Apple, Bluetooth, and Android car stereo systems as part of our complete range of car audio video options. Let us help you get superior sound quality and easy operation with Android/iPhone/iPod integration for your car or truck! We offer several different approaches to connect your iPod (or other device) to your car stereo, and our expert staff is standing by to help you find the right one for your vehicle and your needs. Get on the road to effortlessly enjoying top-quality sound from your Android or Apple device when you're in your vehicle. Autohaus Automotive is only a phone call away!
We can help you professionally integrate:
iPods
iPhones
Android devices
And more
Bluetooth Car Stereo Installation
Among our Apple and Android car stereo integration systems, we have Bluetooth audio options. Enabling you to wirelessly integrate your iPhone (or other device) to your car stereo, Bluetooth systems can provide you with the sound you want without the necessity of physically connecting your phone via dock or cable. If you're looking for a Bluetooth car stereo, Autohaus Automotive has you covered.
When you want to connect your iPhone to your car or play your iPod through your car radio, we have the components and the installation workmanship you can rely on. Contact us today to learn more, or better yet, visit our Hayward showroom to demo iPod car stereo products and more!
ipod integrations
bluetooth integration
ipod installation