Remote Car Starters
Make your driving experience more comfortable and convenient with a remote starter from Autohaus Automotive. Great for preheating your car on cool winter mornings and getting the AC going on steamy summer afternoons, a remote car starter is your answer for eliminating the discomfort of extreme temperatures year-round. With over 40 years serving the mobile electronics needs of the Bay Area, Autohaus Automotive has the experience and expertise you can trust for competent, correct car starter installation. Call today to learn more about remote car starter installation and comfortable driving all year long!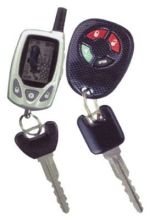 Available as stand-alone units or as part of an integrated car alarm system, your remote car starter enables you to turn on your engine from anywhere within range. That means you can start your car from inside your home, workplace, or even shops and restaurants. Turn your car on before you get in, and the heat/AC will have a change to regulate the temperature before you slide into the driver's seat. Removing the chill in winter and taking the edge off the heat in summer, your remote car starter is your key to comfortable driving no matter the time of year. Autohaus Automotive offers several options in remote starters, with ranges that typically reach 500 to 1,000 feet. Let us help you enhance your driving experience with a car starter: call today.
Because your car or truck is running without anyone inside, safety can be a concern with remote starters. That's why it's important to have the professionals at Autohaus Automotive install your remote car starter. With nearly four decades of experience in the industry, our qualified installers have the knowledge and hands-on skill to properly install your remote starter for peak performance. Don't risk incorrect installation with amateur installers: call Autohaus Automotive for the top-quality products and the best remote car starter installation around!
Remote Starter
Car Starter
Automatic Car Starters
Remote Start System
Remote Starters
Remote Start