Car Alarms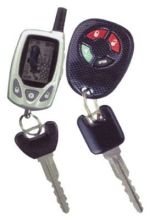 Despite the falling national car theft statistics, the greater San Francisco area continues to have one of the highest car theft rates in the United States. In fact, in 2012, six of the top ten cities with the highest number of auto thefts were right here in this part of California, according to DMV.org. With these startling statistics, it's important for Bay Area residents to protect their vehicles with a complete car alarm system from Autohaus Automotive. Don't let your car be one of the thousands of cars and trucks stolen in our area every year! Call today for more information about our vehicle security systems!
A car alarm is an affordable, effective way to deter car theft: after all, it's hard for a would-be thief to steal your car with the lights flashing and the alarm blaring! Autohaus Automotive stocks several different options in vehicle security, and we can help match your needs with the system that's right for your car or truck. We carry top-quality security products from leading manufacturers, so you can be fully confident in our equipment as well as our superior installation services. Our car alarms are available with a variety of features including:
Dual shock sensors
Extended range (1,400 ft)
Pager remotes
Keyless entry
Remote start
And don't forget, we also offer car alarms for motorcycles. Why leave the safety and security of your vehicle up to chance? Protect your car, truck, or motorcycle, and your investment in mobile electronics, with a vehicle security system from Autohaus Automotive today!
Professional Car Alarm Installation
Remember, in the end, installation quality can greatly affect the performance of your car alarm system. While amateur or DIY installation can create problems with your security system, professional installation from qualified technicians ensures your alarm is correctly and competently installed. Autohaus Automotive has over 40 years in the car electronics and vehicle security industry, so you can be confident in our skills and expertise. We have what it takes to do the job right the first time! When all is said and done, your car alarm is only as good as the car electronics shop that installed it. Call the experts at Autohaus Automotive today for a vehicle security system you can trust.
Car Alarm Installer
Car Alarm System
Vehicle Security
Auto Alarm
Car Security System